"I WISH WE WERE READING/WATCHING/LISTENING TO/EXPERIENCING THIS"
This presentation invites you to work with a classmate to bring texts into the class that have been left out but should be part of our discussion. Besides bringing new texts to our attention, this assignment asks you to make arguments for how and why the texts you choose are valuable to our conversation.
PRESENTATION
1.
You will select a partner and work together to craft a 20-minute presentation in which you present us with two texts that would work well with our other class texts.
2.
I want to nudge you to find academic memoirs like the ones we've been talking about. However, if you're desperately in love with a non-academic memoir and would like to bring it to our attention and tell us why you think it would work for our class, go for it. As with our other class texts, remember that memoirs come in various media as you select what to present. Alphabetic writing is always welcome, but so are other media.
3.
In the presentation you should briefly summarize the piece and then tell us why it would fit well in our class. Feel free to provide snippets of the piece (quotes, clips, etc.) but keep those short.
4.
You can use PowerPoint, Prezi, or something else that suits what you want to do.
5.
It is up to you how you split up the time. You can each present one of the pieces or you can both talk about the two pieces. You can do a more formal presentation where you talk to us, you can talk to each other conversation-style, or you can do a blend of both. It's up to you.
DELIVERY
You will deliver your 20-minute presentation during class on 11/11.
There will be five minutes for questions afterwards. Please make sure to practice your presentation and to stick to the time limit. Besides allowing us to listen to everyone's presentations, working on your ability to deliver your ideas within a given time limit will be great practice for conference presentations, for which you always need to be mindful of time.
Before class time on November 11, you will upload your presentation to the course's Google Drive folder titled "'I Wish' Presentation." The name of your presentation should be 'I Wish' Presentation, followed by your last names, i.e. 'I Wish' Presentation Royster Smitherman.
QUESTIONS
If you have questions about this assignment, feel free to email me, stop by my office hours, or make an appointment.
Powered by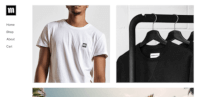 Create your own unique website with customizable templates.